Service, help, protection are inscribed in most State Police mottos. But what the police force may not have anticipated is that service, help and protection would mean going beyond chasing down criminals & filing FIRs. It would also entail singing, dancing and stitching! COVID-19 has made police forces across States to come up with out-of-the-box ideas to help maintain the lockdown and contain the spread of the pandemic.
Assistant Commissioner of Pulakeshinagar (Bangalore), Tabarak Fathima, was one of the first women cops whose efforts to create awareness went viral. She was seen singing and speaking to residents, through a public address system, in a bid to reassure them amid the crisis.
In an interview to The Telegraph, she said, "I see many people taking this lockdown in a negative way. But I am giving a different spin to tell them to utilise the time to learn some new skill or learn to sing or play a musical instrument." At a time when the adoption of precautionary measures was still nascent, Fathima encouraged residents to practice social distancing through her version of "We shall overcome." "We shall stay at home, we shall sanitise, we shall wear face masks every day…."
In neighbouring Tamil Nadu, which is witnessing a surge in COVID-19 cases, women cops are trying to balance between the call of duty and motherhood! In a mother's day special, policewomen told Times of India of the challenges they face. "My husband and I have been on COVID-19 duty since the outbreak. I have been involved in providing food to migrant labourers in the city. Due to the nature of my job, I have to leave my two children alone at home I reside in the police quarters so I can go to work peacefully knowing that they are both safe," says N Rohini, Head Constable, Commissioner Office, Coimbatore.

B. Vennilla's 8-year-old son misses her so much these days that he has named a pillow at home "Amma". "Every time I am put on night duty, he hugs the pillow and sleeps. I have been on COVID -19 duty and my work now involves checking vehicles plying the city, filing cases against people who defy lockdown rules. It's a packed schedule and I feel guilty every time I leave my son at home," says the Grade 1 Constable posted at the Vadavalli Police Station in Coimbatore.
In Jhansi, Superintendent of Police, Rahul Srivastava started a "mask bank" through which women constables are stitching and distributing masks. He was inspired to initiate this when he heard of how 27-year-old Lucknow-based assistance professor, Nikita Singh Gaur, distributed masks with messages to women who were queuing up to access their Jan Dhan bank accounts without practising any social distancing norms.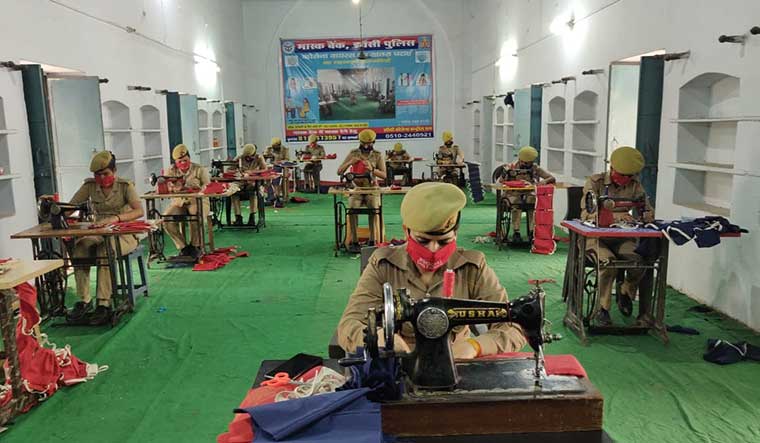 A similar initiative was started by 3 women constables at New Delhi's Greater Kailash police station. Responding to calls they were receiving from people not wearing masks, the women constables brought their sewing machines and began to stitch reusable cloth masks.

What has been interesting is the quick action by police force to respond to ground realities which seem to vary across geographies. In Kerala, which has done a remarkable job in containing the COVID-19 spread, Mahabubnagar's Superintendent of Police Rema Rajeshwari has been facilitating food distribution to daily wage and migrant labourers and tackling the spread of fake news social media. The tech-savvy Rajeshwari has relied on storytelling and folk songs to create awareness. "Well, sometimes lack of knowledge leads to stigma. Imparting right kind of knowledge is also our responsibility. Community partnership is very crucial in addressing this issue. In Mahabubnagar we continue to take the support of community elders and local public representatives so that people feel confident to come forward," she said to SheThePeople.
Her counterparts in Hyderabad were seen shaking a leg or two to Telugu band Chowraasta's awareness song Cheyi Cheyi Kalapaku Ra. Shikha Goel, Additional Commissioner of Police (Crimes & SIT), in an interview to New Indian Express said: "As far as Covid is concerned, women police officers have been performing all duties shoulder to shoulder with men. The song requests people to wash hands and take other safety measures, and emphasises that we can fight this pandemic together."
Even when it comes to addressing social issues, police women are leading the way. In Fatehgarh Sahib, Amneet Kondal, Senior Superintendent of Police, started an initiative to distribute sanitary pads to women in slums. "As women officers, we are more in tune with the feelings of the people. They find us approachable," she told The Week. Kondal and her team are working to educate the women from slums on personal hygiene as well.

Women police personnel have also been inspiring their lot with sacrifices they have made on the personal front. Home guard Tilotama Meher and Constable Sunita Adha, two women police personnel from Odisha's Sundergarh district, postponed their wedding planned for April 12 and April 25 respectively, drawing appreciation from top notches of the State's police force.
What we have witnessed in the past few months is the multiple hats the police force has worn –artist, entrepreneur, reformer, communicator, enforcer – in its efforts to maintain the lockdown and ensure social distancing. For the women in khahki, the pandemic has brought to surface the multiple inherent hues of creativity, sensitivity, compassion and empathy that they bring to their duty as protectors.

A salute to all policewomen for leading by example.